Profile for The Cat's Mother:
Profile Info:
Likes gin. In my free time I run a recording studio. Also, I really despise liars. I'm very happily settled with b3ta user Rotating Wobbly Hat. If you want my email address gaz me for it.
Bumcake as made by me.

Classic rock! Without you the other genres
wouldn't exist! You are the raw and original
sound of rock! Other genres may try to imitate
your rawness, but they can never be like you!
What genre of rock are you?
brought to you by
Quizilla
Your Birthdate: February 19


You are resilient, and no doubt your resilience has already been tested.

You've had some difficult experiences in your life, but you are wise from them.

Having had to grow up quickly, you tend to discount the advice of others.

You tend to be a loner, having learned that the only person you can depend on is yourself.



Your strength: Well developed stability and confidence



Your weakness: Suspicion of others



Your power color: Eggplant



Your power symbol: Spade



Your power month: October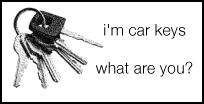 Which Horrible Affliction are you?
A Rum and Monkey disease.

Recent front page messages:


none

Best answers to questions:





read all their answers]