Profile for baby wet ones:
a member for 15 years, 4 months and 11 days
has posted 1418 messages on the main board
(of which 12 have appeared on the front page)
has posted 0 messages on the talk board
has posted 2 messages on the links board
(including 1 links)
has posted 10 stories and 0 replies on question of the week
They liked 0 pictures, 1 links, 0 talk posts, and 0 qotw answers.
Profile Info: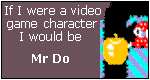 I am Mr Do.


I am sedentary by nature, enjoying passive entertainment, eating when the mood takes me, and playing with my food. I try to avoid conflict, but when I'm angered, I can be a devil - if you force me to fight, I will crush you. With apples. What Video Game Character Are You?

roll up roll up for
issue #1 of Hummus!
, it's mighty special momma!
mail me at wobblybob31 at hotmail dot com
i'm the one to blame for them animations on that there infamous fives show on that there e4 y'know. sorry.
www.iamaxford.co.uk
OOh OoH! updatey! got new website thing wiv me mates, they are much cooler than I:
www.captainwacky.com
. And before you say it,the name is ironic.
squirrel
Recent front page messages:











Best answers to questions:





read all their answers]