Profile for Wicca'd Witch:
Profile Info:
A Tuesday Poem:
There's a Wicca'd Witch from Manchester
She's knackered and loved up
She's got red hair
A green eyed stare
And drinks tea from a cup.
(Baldmonkey wrote this for me and it made me smile)
Also, the beautiful
90Nz0
wrote this poem for me, to celebrate the awesomeness that is me, and the wonders of
CHINESE FOOD
WICCA !
Wicca is my favorite girl,
In the entire whole wide world,
One day I'd like for her to adopt me,
and her antics would make me grin with glee.

I would say that I would marry her,
but her boyfriend wouldn't like that,
we would eat all the CHINESE FOODS
and get really really fat.

She makes me wish I lived next to her,
so I could nip next door.
And come round and play Mario Party
as long as the beans don't make her farty.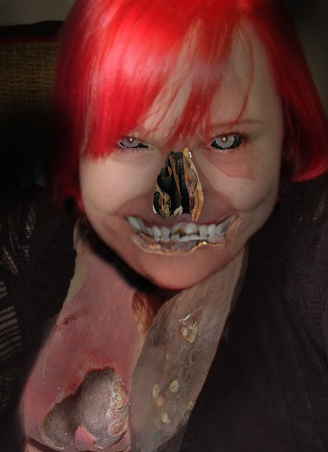 Courtesy of that shitbag Azra3l :)
Thanks Cap'n HB!
I live in
unabashed sin
respectable and legal married bliss with the rather lovely
Badger
and despite what he might say, I don't bloody snore, and even if I did it's a fair revenge for having to pick up his pants from the bathroom floor.
Recent front page messages:


none

Best answers to questions:





read all their answers]